Training to Start 9th June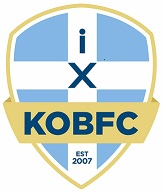 KOBFC Training Starts This Week
Training will be able to start this week at Homelands. See Timetable below
There are rules to be followed – see below
 All Coaches will be sent the full set of rules.
 If you have any issues please contact secretary@kobfc.com.au
Please read all the email
Rules
Players to arrive at Homelands ready to train ( no getting dressed at ground)
Players to arrive and depart within 15 minutes of start and finish times  – see timetable
 Players to be dropped off at gate or side of Homelands, no spactators or parents inside Homelands
No player to come to training if showing symptons of COVID:

(Fever or high temperature,dry cough,tiredness,headaches and pains,sore throat,rash or skin discolouration, difficulty breathing,loss of smell or taste)
Has travelled overseas in last 14days

Players to bring their own waterbottle
Only one player in toilet at a time (Juniors must be accompanied by adult)
Coaches will ensure all other rules followed (distancing, training types)
New Players
New Players are Welcome. 
Only registered players get this email so if you have friends  get them to register at www.kobfc.com.au
Coaches
Coaches will be sent full set of rules.
 Coaches are reponsible for trainings ession and following all rules.
If we have problems the council or government can take away our permission to train.
Managers
 Each team must have a nominated manager by the end of the week.
 This will be difficult since we cannot get togther at the oval, so think about volunteering.
 Managers are essential for a team and club to operate successfully.
Timetable – Times can be considered for change after this week.
 All Age Premier League    – Wednesday  6.00- 10.00pm
All Age Raahuage Cup      –  Thursday  7.30 – 9.30 pm
U11 & U10                          –  Thursday  5.00  –  6.00pm
U9                                       – Tuesday  4.30  –  5.30pm
U8                                       – Wednesday 4.30  –  5.30pm 
U7 & U6                              –  Friday     4.30 – 5.30pm
Looking forward to seeing you all back out on Homelands
James Smith
Secretary
Kobfc.com.au